An Experienced Legal Team Is Here For You
At Ricci Partners, LLC, you have legal representation with more than 50 years of combined experience. Many members of our team are born, raised and educated right here in Louisiana.
We believe that our state's vibrant culture should inform our practice. Our neighbors and community are hardworking and proud. That's why we dedicate ourselves to high-quality customer service.
Meet Our Attorneys
Whether you are seeking a business attorney to help form the right entity or need and aggressive teak with knowledge and experience to litigate complex issues in court and fight for your interests, rest assured, we will take time to remain by your side every step of the way.
Michael Steven Ricci
Managing Partner
Lifelong resident of New Orleans currently living in the Lakeview area of the city with my wife, daughter and son. I have broad experience in commercial litigation and trial practice in both Louisiana state and federal courts as well as corporate counseling in a variety of industries. Majority of practice involves Real Estate, Property Development and Management, Transaction Counseling and Practice, Professional Liability Defense, along with work for Financial Institutions. Further, I serve as outside General Advisory/Risk Counsel/Corporate and HR Counsel and litigation head to multiple Regional and Louisiana companies. Along with the above, I assist and counsel several private real estate companies, investors and developers with their ownership, development, management, purchase and sale of multi-family residential and commercial property. I also serve as a main litigation counsel/contact to a number of professional liability/casualty insurers, and have represented a large number of the major Broker/Agent/Management/Development companies in South Louisiana regarding their professional liability/casualty concerns.
Jonathan L. Schultis
Partner
Jonathan is a litigator and experienced trial lawyer whose principal areas of practice include professional liability, banking, real estate, construction law, and various insurance matters representing a diverse group of clients in commercial, business, and tort litigation. Jonathan participates in all areas of practice of the firm and also works on various corporate, commercial, and transactional matters. Jonathan earned his J.D. from Loyola College of Law in New Orleans in 2012. Jonathan graduated summa cum laude from Texas A&M School of Law earning an LL.M in the areas of Risk Management and Compliance as well as in Real Estate and Construction Law, Policy, and Management. A thoughtful problem solver, Jonathan advises his clients as to litigation avoidance practices. In this capacity, Jonathan engages in thorough preventive counseling wherein comprehensive risk management guidelines can be established for business operations to ensure compliance with various laws and regulations. Jonathan also take a realistic and practical approach to resolving matters as efficiently and as economically as possible. Jonathan is married and is the father of two girls. Outside of his legal practice, Jonathan enjoys traveling, reading, and golfing, although he struggles to find the time to hit the links. Jonathan is an avid New Orleans Saints fan who has attended nearly every home game since 1992.
Sara Hayden
Associate
Sara has been an associate with the firm since 2020, who practices real estate, professional liability and construction litigation and transactions. Sara is a native of Coppell, Texas, and is proud to call New Orleans home. When Sara isn't advocating for her clients, you can find her enjoying the natural splendors of Southeast Louisiana with her husband, Martin, and their trusty sidekick/plott hound, Hank. EDUCATION Loyola University New Orleans College of Law, J.D., 2017 Louisiana State University, B.A., 2014 BAR ADMISSIONS Louisiana United States District Court for the Eastern District of Louisiana United States District Court for the Middle District of Louisiana United States District Court for the Western District of Louisiana United States Fifth Circuit Court of Appeals AFFILIATIONS Louisiana State Bar Association New Orleans Bar Association
Christian "Chip" Pryor Hebert
Associate
Atticus Clay Hanrahan
Associate
Mr. Hanrahan is from the greater New Orleans area and chose law as his destiny with his first name being "Atticus" as well as a legal and medical upbringing. Mr. Hanrahan often jokes that he was "born in a law firm and raised in an oncology unit," as his father gave up the legal profession to follow and succeed in his dreams of becoming a pediatric oncologist. Mr. Hanrahan's parents were one of the original founding members of the global litigation firm, Quinn, Emmanuel, Urquhart & Sullivan, one of the most successful, if not the most successful, litigation firms on our planet and his uncle, during his days of practice, was considered "one of the most important bank finance lawyers in the world." Mr. Hanrahan is currently doing all he is capable of to properly follow in their footsteps and has big future aspirations as a practicing attorney. Mr. Hanrahan loves the profession of law, not only for the constant and seemingly everlasting flow of work, but mainly because he loves helping people. Mr. Hanrahan attended Loyola University New Orleans for his Undergraduate degree. Three years later, after working all sorts of different types of jobs including selling life insurance and arborist work, Mr. Hanrahan attended one semester at the Charlotte School of Law in Charlotte, NC before its unexpected closing, and soon after transferred back home to Louisiana and attended Southern University Law Center as a commuter student. After taking some time off from graduating law school to take care of his dying grandmother, a Northern Irish immigrant who Hanrahan declares is fighting spirit, Hanrahan started work as a defense attorney for a large national law firm in its New Orleans office before switching sides as a plaintiff personal injury attorney for a long lasting and very reputable firm on the north shore in Slidell. In only one year as a plaintiff personal injury attorney, Mr. Hanrahan settled over 45 cases and just under $1,000,000.00 worth in claims and was every clients favorite attorney. He hopes to continue his success in civil litigation with Ricci Partners, LLC and has very high hopes for his future with the firm.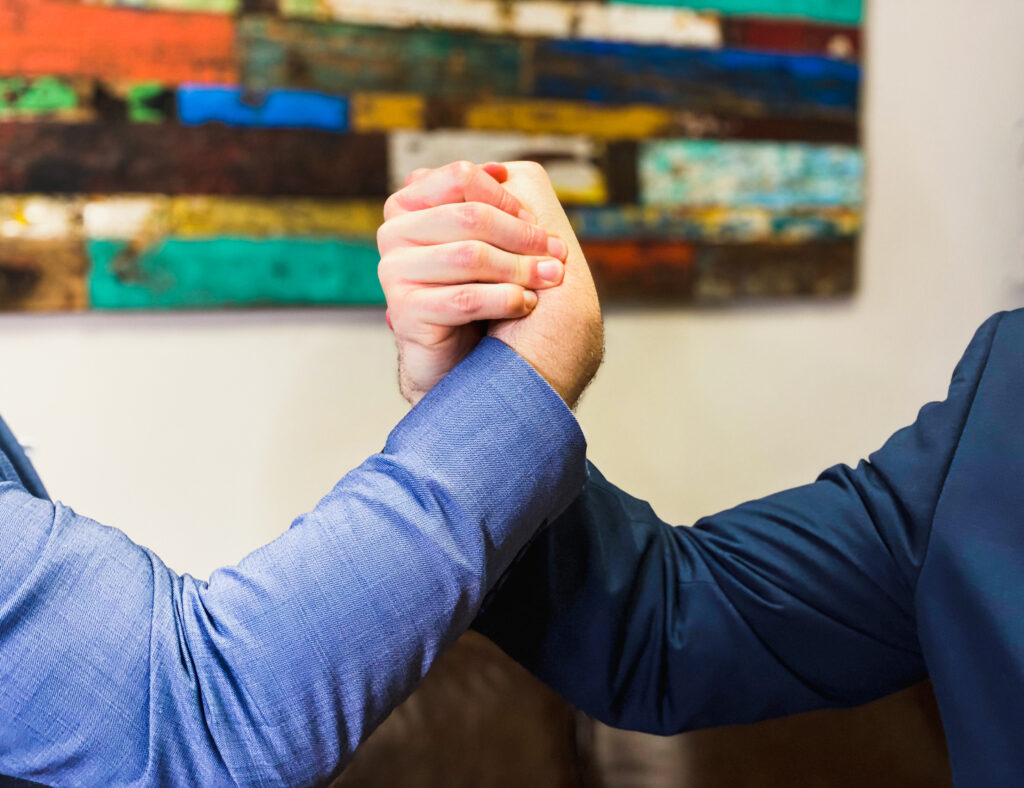 A Nationally Recognized Legal Team
Our dedication shows in our results. Our attorneys are listed among nationally recognized legal teams like the Super Lawyers: Rising Stars lists. We are trusted with high-stakes litigation and have practiced law at the United States Court of Appeals for the 5th Circuit.
Want Hands-On Legal Assistance?
Our attorneys understand that you are busy and the world does not stop for a legal dispute. We offer flexible appointment hours and provide specific, actionable advice so that your legal needs work around your schedule.
Whether you are seeking a peaceful resolution to your real estate matter or need an aggressive in-court representative for a construction dispute, you can be sure that our attorneys will always provide hands-on attention to your legal needs.
Schedule A Consultation
We invite you to contact our office in New Orleans to schedule a consult with one of our experienced attorneys to learn more about our background and how we can help you.
Call 504-304-7115 today. You can also send a confidential email. Flexible appointment times available.